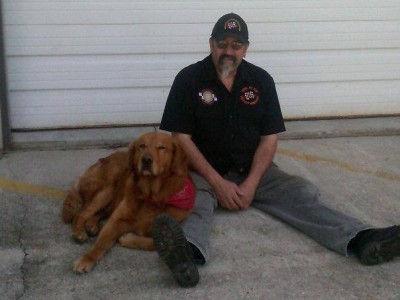 Drag racing is one high-intensity rush that caters to all levels of enthusiasm. You can just show up and "run what you brung,"go the next step and invest a few thousand in performance extras, or dedicate all of your free time and most of your paycheck to shaving down those elusive tenths of a second. Or you can just relax in the sun, suck down a few cold ones, and watch other roar down the quarter mile.
Some racers are fortunate enough to get minor sponsorship in the form of performance parts, or at least racer discount prices, but few make it to full sponsorship and even fewer make a living as a professional.
After 13 years of racing, Maiko Saravia is one rider who has reaped the benefits of his time, sweat, money, and dedication by gaining full sponsorship from Bartels' Harley-Davidson of Marina Del Ray, Calif.
Maiko started racing in 1982 and by 1992 was seriously involved in motorcycle drag racing - primarily through the All Harley Drag Racing Association. With significant success in both AHDRA C class (XL Street Stroked), and U Class (Street Unlimited), he joined the Bartels' Race Team in early 1995. Maiko finished the '95 season number one in the Western Division and number two nationally with both bikes.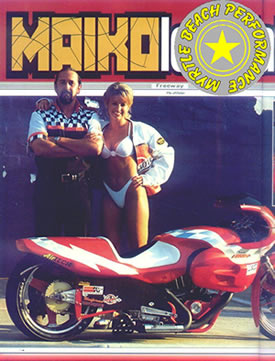 To run these two classes, Maiko and Bartels' race mechanic, Dave Rivera, have set up two bikes: the black C class bike, which started life as a 1986 XL 883 and is now stroked to 98 inches, and the orange U class machine - a 1992 XL, which is now at 110 cubic inches.
Apart from the different AHDRA classifications, these tow straight-line screamers share several similarities in performance parts. Both bikes are running STD heads, Axtell pistons, S&S Super D carburetion, Bartels' Performance Products (BPP), 630 cams, JIMS lifters and S&S lower ends balanced by Will in the Bartels' Performance shop. There are also similarities in the running gear in that the bikes have lightweight front ends made up of Drag Foxx forks and Kosman trees. Wheels are Kosman 18-inchers with 5.5 inch Akront rims in the rear and 1.85 inches in the front. Drive chains are Regina; brakes are by Braking.